Rollerblade Spitfire
Guarantee (months):
24 months
Compare
Compare
Free delivery for order over 156.31 EUR
Product details, description
Price-checking
Discussion 
Children´s (boy´s) inline skates Rollerblade Spitfire will be the best friend of your children, expect of that they will sport, they will also have fun. 
Skates are very comfortable and stabile, they are mounted on composite frame, equipped with bearings SG3 and equipped with wheels with diameter 72 mm (you can exchange them for wheels with size 76 mm).     size 28-32 equipped with 3 wheels.
Children´s growing inline skates Rollerblade you can with only pressing the button adjust on other size in range of 4 sizes. 
Frame

Composite - Composite frame - light and comfortable - intended more for beginners, lighter skaters men and women or children. For power skaters it is more recommended aluminium and magnesium. You can put on wheels with size 76mm.
 Tying    
45° powerstrap - Velcro directed so it will perfectly fix the heel in skate and protects movement of leg, which ensures better transfer of energy and protects from blisters and abrasion, which may arise at wrong tightening of skates 
Laces + buckle above the ankle
Shoe    
Performance junior liner - quality PU foam, inner shoe will perfectly adapt to the shape of legs of your children.  
 Skelet
Extendable - You are not interested to buy new skates for your children every year because their legs are growing? It is nothing easier. Skates Rollerblade and Bladerunner come with perfect solution - they can be expanded up to 4 sizes. Simple mechanism, which then expands the time of using the skates to few years
removable inner liner
Wheels
Wheels Rollerblade 72mm/80A with low rolling resistance for perfect enjoyment from the ride. Quality polyurethane composition adds to long longevity and mute vibrations. High speed with less effort and unbelievable energy in every of your rides. 
Bearings
Bearings Rollerblade SG 3. Oil lubrication ensures perfect spin. From outer side there is classic anti-dust cover ensured with C fuse with possibility of demontation. 
Do you need advice how to choose inline skates?
Do you need advice how to choose wheels?
Do you need advice how to choose bearings?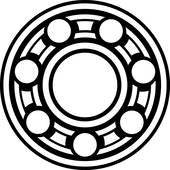 In shops we provide Diagnosis of vault for free.
Product details
| | |
| --- | --- |
| Wheel size | 76/72 mm |
| Wheel hardness | 80 A |
| Bearings | SG 3 |
| Chassis material | Plastic |
| Fastening system | Lace + micro buckle |