Powerslide Phuzion Xenon 100 Women
Guarantee (months):
24 months
Compare
Compare
Free delivery for order over 156.31 EUR
Product details, description
Price-checking
Discussion 
Phuzion Xenon 100 Women
About unique system of attachment of chassis to the shoe you will read in article technology of attachment of frame Trinity.
Women´s roller skates Powerslide Phuzion Xenon Women 100 Trinity are intended for more demanded experienced skaters, who require higher dose of comfort from skate and sport performance. Model Xenon is a part of popular row Phuzion for recreational skating and thanks to 100 mm wheels (hardness 85A) is suitable also for fitness ride. Comfortable and solid skelet is equipped with technology for highering comfort and improved strength transfer. 
Overworked system improving torsion rigidity of skelet Torsion Bar System allows to use for the remaining parts of shoe light and breathable mesh material without the loose of rigidity. Aluminium Trinity chassis is equipped with large 100 mm wheels with very quality bearings WCD ABEC 7. Trinity is new asymetric attachment of frame, which allows maximal approach of wheels to the shoe, by which is lowered center of gravity and highered stability. Shoe is attached to the frame by three-point attachment, which also more mutes vibrations from ride, better transfers strength of reflection and offers more control during skating.
Skelet of skates of row Phuzion is fullfiled with the newest technology of construcion of skelet called Trigonomic Fit, is thoroughly thought out including ventilation system made by ventilation openings with grid in the front and bottom parto of shoe. Removable anatomical shaped insole with perforation also perfectly breaths and is very comfortable. From the bottom side there are 3 different zones with gel or foam elements for cushioining of heel, fingertip and middle part of leg. 
Part of shoe is except of classic foam padding also 3D latex foam in part of ankles for maximal comfort. Inner insole is then covered with fine micro fiber with neoprene. From outer side there is used breathable perforated fiber Performance Fit. Inner side of tongue is also 3D shaped and exactly copies the shape of leg. 
Powerslide Stride Bar offers support of holding from foot, over the instep up to the ankle. This offered support protects from loosing of energy at skating. Firm holding of leg helps to transfer all your power to the speed without unnecessary losses. 
You can easily put on skate thanks to technology Easy Slip In, which from many years of experience of company Powerslide. When you put skates on, there is perfect large tab on the back part of skate. The main tightening of skates is ensured with lacing, thanks to which the skate will be tightened good, then you ensure leg with long vecro and finish with solid buckle with fuse against not wanted opening. 
Parameters: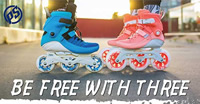 skelet: Glass-fiber reinforced plastic, Trinity
chassis: PS Elite casted, Trinity, 3x100mm, 9,1", Aluminium
wheels: PS Infinity Swell 100/85A
bearings: WCD ABEC 7 
brake: Habs

 Three-wheel skates-advantages and disadvantages. 
 
Product details
| | |
| --- | --- |
| Wheel size | 100 mm |
| Wheel hardness | 85 A |
| Bearings | ABEC 7 |
| Chassis material | Aluminium |
| Chassis attachment | Trinity (šroubovaný) |
| Fastening system | Tkanička + 2x Přezka |