Roces Orlando III black-pink
Guarantee (months):
24 months
Compare
Compare
Free delivery for order over 160.00 EUR
Product details, description
Price-checking
Discussion 
The story of brand Roces began in year 1952 in the whole world known shoe part of Montebelluna, in the town 50 kilometers from Venice. Ottorino and Lina Cavasin here established company, which from the beggining made leather hiking and ski shoes in the spirit of traditinal craftsmanship. In 70th the company develops new row of ski and hiking shoes, which is already using revolutionary solution with uses plastic mass in sport technologies. First composite winter skates in the world were introduced in 1978 and it was a revolution, because it was first plastic skate for recreational skating. Three years later, in year 1981, Roces develops totally first inline skates with name PRO, inner part of these skates is still made today. In year 1991, at sport expo in Las Vegas, there was under name Roces presented complete row of roller skates for international market. In year 1994  then come first adjustable 
inline skates for children. It was a big surprise, because not everybody knew, that Roces designed and produced first inline skates. 
Roces Orlando III are very quality children´s roller skates. Breathable solid shoe ensures maximal support and thanks to this are ideal even for total beginners. Skates have memory buckles, which you will adjust once without adjusting again the level of tightening. No laces! Easy and fast putting on and off skates. Of course there is adjustable 4 size for longer longevity. This model is as the only one in the world made already from size 25!
Frame
Unitech - Composite frame - light and comfortable - intended more for beginners, lighter skaters men and women or children. For power skaters it is more recommended aluminium and magnesium. You can put on wheels with size 72mm.
Aluminium spacers
 Tying    
Memory bucles - 2 memory buckles, which you will set once and then only tighten, withouth need to set the level of tightening. No laces!
Shoe    
AV Design (Adjustable&Ventilated) with Kid Fitting - quality PU foam, ventilated, designed right for children´s shape of leg. 
 Skelet
HQ Polypropylene - Light and solid plastic skelet offers maximal level of support and it is then suitable even for beginnning skaters.
Adjustable for 4 sizes
Wheels
Wheels Roces 72mm/80A with low rolling resistance for perfect enjoyment from the ride. Quality polyurethane composition adds to long longevity and mutes vibrations. 
in sizes 25-29 wheels with diameter 64mm
Bearings

Bearings Roces Abec 3 have very good ratio of speed and endurance. Silent move ensures vaseline lubrication. Bearings have classic anti-dust cover ensured with C fuse.
Do you need advice how to choose inline skates?
Do you need advice how to choose wheels?
Do you need advice how to choose bearings?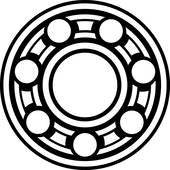 In shops we provide Diagnosis of vault for free.
Product details
| | |
| --- | --- |
| Wheel size | 72/64 mm |
| Wheel hardness | 80 A |
| Bearings | ABEC 3 |
| Chassis material | HQ Polypropylen |
| Fastening system | 2x Přezka |
K Roces Orlando III black-pink