Micro Mini2Go DeLuxe Plus Pink
Availability:
In Stock - External
Guarantee (months):
24 měsíců
Compare
Compare
Free delivery for order over 160.00 EUR
Product details, description
Price-checking
Discussion 
Micro Mini2go Deluxe Plus - pink
Micro Mini2go Deluxe Plus
 in pink colour is newer and more improved version of classic Micro Mini2go.
This scooter you can use from 1,5 year of age as a classic pushbike and in later age as a tricycle or better to say scooter. 

Part Mini2go Deluxe Plus
Part of tricycle is  "bonneted seat", which you can easily remove. Under this seat is storage space for all other accessories. Capacity of this seat is max. 20 kg. 
In package you also find rear guide rod, thanks to which you can take control of tricycle, or you can help to little rider f. e. to the hill. When you don´t use the control rod, it can be simply stored in a drawer. 
Mini2go Deluxe Plus has also LED light, which is fitted in a drawer. You can take this out and use as a riding light on handlebars. 

Multiple use
When you will not need a seat, you can remove it, then it develops Mini Micro Deluxe with hight adjustable handlebars 49-68 cm from ground. Maximal age for using Mini2go Deluxe+ is not set strictly, only maximal weight of rider limites it - up to 35 kg. 

And where is the biggest advantage?
Thanks to the way of cornering by tilt, developes childrens motorics and balance. Cca in 3 years children start use the scooter without the seat. At ride, when rider is standing, motorics is developed even more and partially the ride stimulates the style of carving skiing. 

In many countries, mostly west, was this combination of pushbike and scooter awarded as a "best toy for toddler" and got many different world awards. 
Why is  Micro Mini2go Deluxe Plus - pink unique?
- already from 1,5 year as a pushbike, later as pushbike and scooter
- curving by weight shift and by tilt of control rod 
- very low weight
- safe and intuitive control
- storage for toys
- control rod for adults
- lighting
Awards, certificates, participation:
Parameters:
| | |
| --- | --- |
| Parts | tricycle, seat with storage,  T-handlebars, control rod, LED light |
| Wheels | 120 mm / 80 mm, PU 87 hardness A |
| Width of wheels | 24 mm |
| Length of pedaling | 30 cm |
| Width of pedaling | 11 cm |
| Hight of pedaling | 5,5 cm (from ground) |
| Max. hight of handlebars | 68 cm |
| Min. hight of handlebars | 49 cm |
| Weight | 2,15 kg (tricycle); 3,75 kg (including seat); 4,3 kg (including control rod) |
| Hight of seat | from ground 26 cm |
| Capacity of seat | max. 20 kg |
| Capacity of tricycle | max. 35 kg |
| Colour | pink |
| Age | from 1,5 year |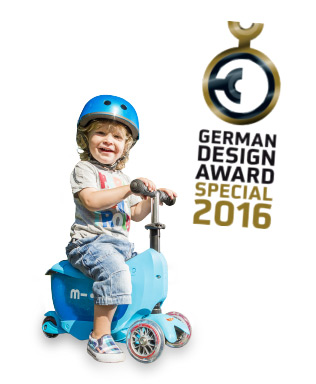 K Micro Mini2Go DeLuxe Plus Pink