Frame Trinity introduced to the market german producer  Powerslide. It is a technology, which is changing attaching of the frame from classic two-point attachement to the three-point attachment. From the beginning the novelty was popullar and expanded mostly between racers, mostly marathoners. Now technology Trinity made a difference into all kinds of skates. Which are advantages of new technology of attaching the frame? Producer provides few and they sound convincing and logical. But now there is interesting conflict about frame and its purpose. Is it really frame Trinity helpfull for us riders?              
About frames Trinity we already talked in previous article - Technology of attaching frame Trinity
About what is a doubt?
According to critics, the change is only cosmetical and doesn´t have any special impact. Frame Trinity is comparing to other frames attached to the shoe of skate on three spaces - under thumb, under little finger and under heel. According to producer it is ideal dividing of weight of center of gravity. With this critics agree, but they wonder about other thing: If the skelet of shoe is sufficiently solid, then foot will stay weighted even on the whole surface anyway. For the speed of skating is on the contrary to tighten the whole weight on the axis of shoe with frame and wheels and not divide them to the sides.              
So how about advantages?
The first goal of frame Trinity is not higher speed, but stability. It will be reached with two things - mostly by lowering the center of gravity by 1 cm, secondy by already mentioned dividing the weight by help of three fixtures (thumb, little finger, heel).          
Lowering of center of gravity by 10 mm is of course very visible. From the side of stability it is similar, as you would exchange 110 mm wheels for 100 mm. Technology Trinity then markantly helps with skating on large wheels (110 or 125 mm) also to those who were scared to ride on them, or those who are only beginning with them. Everyone, who stand already on skates with larger wheels will agree, how markant influence on side stability, unsteadiness and maneuverability has highering of center of gravity by 10 mm, even from our experience we can say, that from some size of wheels very markant. It is logical, interface is given by the width of wheels, this is with larger wheels thanks to their standardize width doesn´t change much. However the height of your foot against to surface is changing and of course more you stand in relatively thin interface (wheels) higher, more difficult it is with your foot and ankles to hold overall balance. Producers resolve this problem by reinforcement of shoe, but it is still more suitable to have center of gravity as lower as possible with the ratio of maximal size of wheels, which you need for reaching the speed.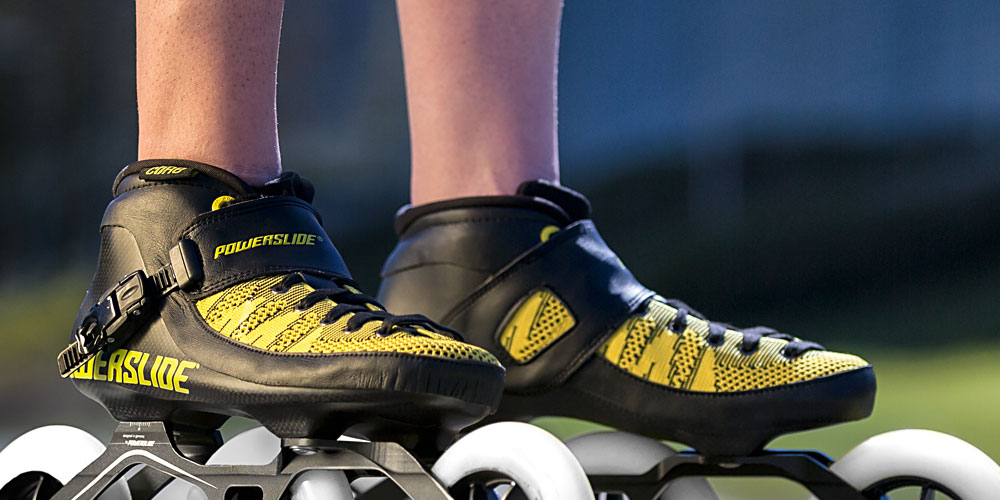 As far as dividing the strength, the opinions of critics are partially right - if skelet of shoe is really solid and shoe suits you absolutelly, the difference is not visible. But no leg has exact number of shoe, leg is in shoe often swimming - it is millimeters, but that is what matters. 
Thumb is very important for the stability. If actor wants to act in the film or in theatre somebody who is drunk, will put up thumbs in shoes and walks "without them", so as he would not touch the ground. Then it pushes him to put legs little wider, weight of the body will transfer to sides and his walking will be unsteady. Attachement right under the thumb and simillary also under little finger is then kind help to your stability. Dividing of weight into three points not only highers stability, but also lowers vibrations, which come to legs during the ride.        
Both changes markantly disburden your ankles. They will allow easier to higher speed and with more sureness and with strength to brake and also make turns. 
To frame Trinity transfered also Sam Crofts:
But it is the best to try frame Trinity and decide on your own. Come to our shop and try alone, what difference the frame Trinity is bringing you and if it suits you.  
We look forward to you!