Today we take a look at a little secret topic. Did you know, that the biggest world players as Fila, Rollerblade or even K2 produce their products in two qualities? Because of the skates which you see in the catalogue, and which are proud of all available technologies of given brand, there are also skates for sale, which you will not see in catalogue or on the official internet websites of producers, and even though you will normally see then these skates in the shops? Where these skates even came from? Why are they selling? And do you know, how to avoid buying of these less quality branded skates, which are sold in attractive low prices - often in the flyers?         
There is no branded product like branded product
SMU models - price is primary
Which are the differences comparing to the models from the catalogue?
Skates are as rolls
Is quality more preferrable than the price?
The word "discount" is the largest attraction. Attention! There is no discount like a discount. Do not be fooled! 
Will layman see the difference in the quality?
Names of SMU models
Stop to the lack of the information - everyone should know, which product is buying
On the picture SMU model of skates Rollerblade with typical label ST and SMU model K2 Kinetic.
There is no branded product like branded product
These skates will will make feel the customer, that he is buying perfect branded skates full of quality technologies for great, much lower prices. But is this really the truth? Of course not. For the lower price you will get naturally lower quality. So it is possible, that producers like Fila, Rollerblade or K2 make two qualities of skates, but how to really recognize those real quality ones? The easiest is to check out the internet websites of producers, where are the catalogues of skates normally to download and actual models you can see clearly.         
Quality can be easily verified by help of catalogue, which is normally available right on the websites of producers or you can come and check them in our shops.
SMU models - price is primary
Products, which are made out of the catalogue of producers with larger or smaller adjustments, more or less on behalf of needs of users, are not labeled SMU (Special Make-up). The most often these skates are primarily made for single sport shops, which make larger amount of pieces, so it is repaid to the producer just to make this model. These skates can often be distributed even to normal distribution.      
The pressure on the price is often given by the seller himself, who wants to sell branded equippment in large amount and also to offer it as cheap as he can. Producer then has thanks to view of the large amount of made skates motivation, to adjust the final product in quality that way to fulfill the requirement on the price.     
Sellers sometimes say, that it is the same qualty as at models, with which the producer is presented for the given season, it is only different in design. Customer then can have a feeling, that he is buying very quality skates, only in special design. In large amount of cases it is though otherwise. Skates don´t have only different design, but mostly are used also other cheaper materials, or older construction, so the skates can be made, and then could be also sold, for lower price. Also with common sense you can figure out, that not everything is as a gold which shines.        
SMU skates of brand K2 in typical flyer action. Comparing to the cheapest models here we will find much more worse upper material of shoe, which is less flexible and less breathable.   
Which are the differences comparing to models from catalogue?
The differences between catalogue and SMU models are various - very rarely it can only be the change in adjusting of colour, then of course you can´t expect much better price. 
Vast majority of SMU models then is with the quality worse, then catalogue model, mostly we meet with these differences:
width of padding and quality of material (f.e. padding without memory foam)  
material of the upper of shoe (worse breathability, softness, compliance, used more cheaper artificial materials)
construction of skate (skate is put on older, but not any more used construction/skelet)
less quality materials on frame of skates (softer frames, lower rigidity in torsion, less material, less quality alloys)
system of tying, quality of laces or insoles, length and material of buckles etc.
size of wheels, material of wheels, quality of bearings etc.
quality of other parts - rivets, sewing etc.
processing in the workshop
In common applies that some of the models are more similar to catalogue technologically, but they are then naturally for higher price, which is close to official model, or on the contrary they are more adjusted in quality and then they surprise with low price. So it always applies that quality responds to the price and it is naive to think, that in normal shops you will buy profi skates in prices, on which the shops will loose the money.   
Will you recognize which model is catalogue original and which is made as SMU? From upper material there is also from the picture clear, on which skate they saved the money, there are then of course more differences.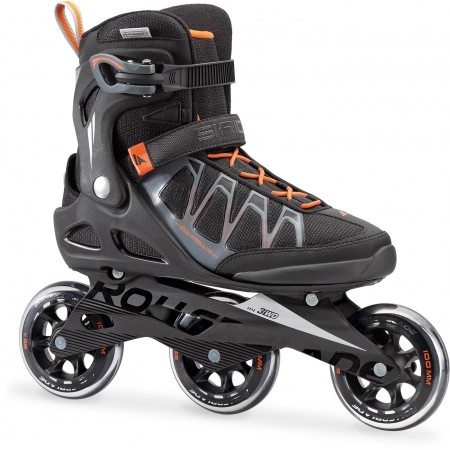 Skates as rolls
Problem can come in the moment, when customer enters the shop with wanting for his earned money to buy the most quality skates from famous already introduced brand, which all of his friends like and unawares will bring home the skates with worse padding, quality of frame or on older construction, comparing to the models in official catalogue, by which the producer is presented on his websites.  
It is not a fraud of course, this brand really makes skates and the customer will bring home the product, which he chose by himself and which is with its quality and the price good for him, but he will not know, that other models from given brand are better and the quality of these skates are in comparision with official models just worse. And in fact it can not matter to him, he took skates, which he checked out, tried and the price was also ok. So the choice was totally on customer, who besides, could check out the portfolio of given brand before on f.e. official websites of the producer or to get advise from us, as specialized sellers.    
The aim is to compare these skates masivelly, as rolls and in as high amount as possible for those, who prefer attractive price. 
On the first 2 photos are the skates K2 Power 90 and Helena 90, these are SMU models. On the third photo you can see the catalogue version with newer cut of shoe, more comfortable lacing etc. 
Which is more preferred, quality or price?
These skates are not only the domain of sport "supermarkets", but you will meet with them also in offer of larger or smaller shops or e-shops. However naturally the big part of SMU models sell just the big chains, where more customers are cumulated, who prefer lower price and quality of the product is the second element. In flyer actions you can see mostly much cheaper models SMU, which you will not even find in catalogue or on websites of the producers.        
In specialized shops, including ours, you will also see SMU models, the market wants them unfortunatelly, customers want the branded skates in the lowest prices as possible. They don´t care about quality that much, which is probably in Czech Republic often a problem and it is surelly depended on purchase power. It seems, (not only) in Czech Republic is often on the first place mainly the low price, word discount and established brand. It doesn´t matter that the quality is worse. Probably from the same reason in chains with grocery products are selling famous brands in lower quality than at our western neighbourhood. The reason is clear, Czech people don´t care about the quality that much and prefer mostly sale prices. And where is the demand, there will be also the offer. Why then the producer should make the product more quality=more expensive in production, when the customer just buys the product also in the lower quality.               
Other comparision - on the first photo SMU Rollerblade Spark 90 W and on the other catalogue Rollerblade Macroblade 90 W. Better frame, more modern construction, breathability of upper mterial, better bearings and even more comfortable insole.          
The word discount is the biggest attraction. Attention! There is no discount like a discount. Do not be fooled! 
Misrepresenting and misleading can be also a discount at SMU models. Recommended price of given skates though doesn´t need to be adduced. Seller then can set the price himself and state, that the skates have normally recommended price of 5,000 Czech crowns and now he sells it for 2,500 Czech crowns. This is then big attraction for the czech customer, branded skates and 50 % discount, why not to buy it then... A dream of every customer. Those skates then should be good quality when they paid 5,000 Czech crowns.... really? Of course you can meet with real discount of older products, but here again applies, that not everything is gold what shines, and know then that no sellers make business to loose the money. Naturally you will get appropriate product for your money.          
Misrepresentation of the price. How much are the quality branded skates?
SMU models could also misrepresent the real prices of branded roller skates. Skates are made in lower quality that way, so they can be sold in lower price. With regard of the purchase power of czech market are these skates more often moved in range between of 2,000 up to 4,000 Czech crowns.           
And what about official catalogue models? F.e. at american K2 according to recommended retail price the middle up to higher models of finess skates move from 4,000 up to 8,000 Czech crowns, which is a real price of better branded roller skates.         
The vision, that in price of 2 000 - 3 500 Czech crowns you can get good quality skates is then totally paralogical. These could be either lower models of introduced brands in sale or models SMU in lower quality, or skates of brands focussing on segment of cheaper skates, where again the quality will respond to the price.                       
Will layman see the difference in the quality?
The advantage and also disadvantage of this segment is, that the difference in the quality is visibible immediately! Fact is, that the difference between the skates for 2,500 Czech crowns and skates for 4,500 Czech crowns you will see clearly. Bettter comfort, stability of ankles, maneuverability, inertia of ride or all riding characteristics.. The differences in the quality you will feel already after the first put on and ride on these skates, and just so  you know they are convincing.       
Skates Rollerblade Twister Edge in official catalogue of brand Rollerblade are not cheated off in materials and technologies.     
Names of SMU models
If it is SMU model or no, you can partially recognize from the names of single models. Typical names for cheaper SMU skates K2 are Helena, Flight, Velocity, Freedom, Kinetic, Power, Alexis Speed, Ascent. At skates Rollerblade is typical labelling ST or SC, f.e. Sirio ST, typical names for SMU rows are then Aero, Astro, Sirio, Spark ST, Spark SC, Igniter ST.
Typical SMU models made with the effort to lower the price. Discount on skate Rollerblade Spark 84 ST Men and Women, K2 Velocity Sport Men and Women, K2 Power 84 Men and Women, Rollerblade Sirio 84 ST and Rollerblade Spark 90 ST.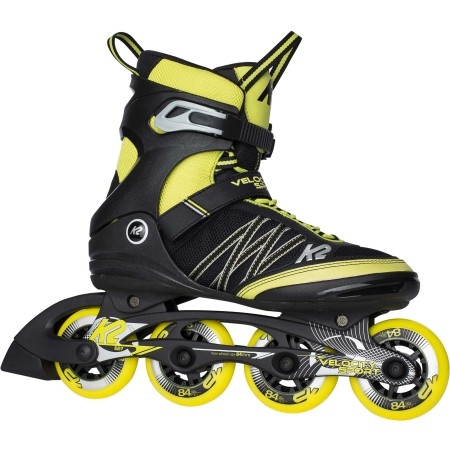 Stop to lack of information - everyone should know, which product is buying
From the upper mentioned reasons we have decided, that we will tell you everything straight. Every model, which comes from official catalogue collection introduced to the czech market will be newly visibly labeled with the stamp of original product, on contrary at the cheaper skates there will be clear labelling SMU. Everyone should know what quality he is buying.  

Official model of children´s skates K2 Marlee Pro.