On Saturday September 16, 2017, in front of our shop and rental in Prague in Landronka took a place by us origanised event with name Inline Day 2017. Younger and smaller sibling of larger Inline Festival, which we organised in the beginning of season. 
If Inline Festival was meant to be the start of skating season,  Inline Day was meant opposite, symbolic ending of main season with participation of accompanying program intended to inline skating. 
The key part of event was testing of skates from american brand K2. At the place was mobile testing rental, which has its base in Germany and is travelling through Europe. Rental was equipped with the most actual models from collection of american brand. You could try popular models K2 Alexis and K2 F.I.T., also royal class K2 Vo2 90 Boa, which belongs to the best, what you can find in the market for recreational skating on cyclo paths.  The prove are also front places in test Inline Festival 2017 and great selling results of this model.  As a toy there was prepared freeskate model K2 Midtown and children also loved it thanks to models K2 Charm and K2 Sk8 Hero. Segment of faster skates represented new model K2 Sodo or f.e. marathon model with 110 mm big wheels intended for longer distances K2 MOD 110.  The most demanding skaters had a oppoturnity to try three-wheel skates K2 MOD 125.
Rental was open from 10 a.m. until around 6.00 p.m. even when it was not very good weather forecast news with occasional rain, there came over 80 interested parties in testing.  Thanks to chosen location was possible to test skates on famous skating circle on Vypich and properly ride skates with proper ride on skating circle. 
Sympatic was that at testing participied all generations from small children up to older ladies and men, the youngest participient was 4 years old, the oldest over 70 yerars.  
Big interest was also in consulting and courses for free from instructors from  www.inlineskola.cz . Inline school had its own stand at the event and instructors were definitely not bored. The biggest interest was traditionally about teaching of braking :)
Program was diversified also with ambasador K2 Ondra Thor, who with his program made fun for participients, if it was overcoming various obstacles on skates or skill competitions. 
The part of program was rail zone, where you could see perfect tricks from experienced aggressive skaters. Rail zone was available for all, so everyone could test their skills. 
Many customers were here because of total sale of models K2, about which took care our stand Inline Centrum. In offer were skates, wheels, bearings in sale prices.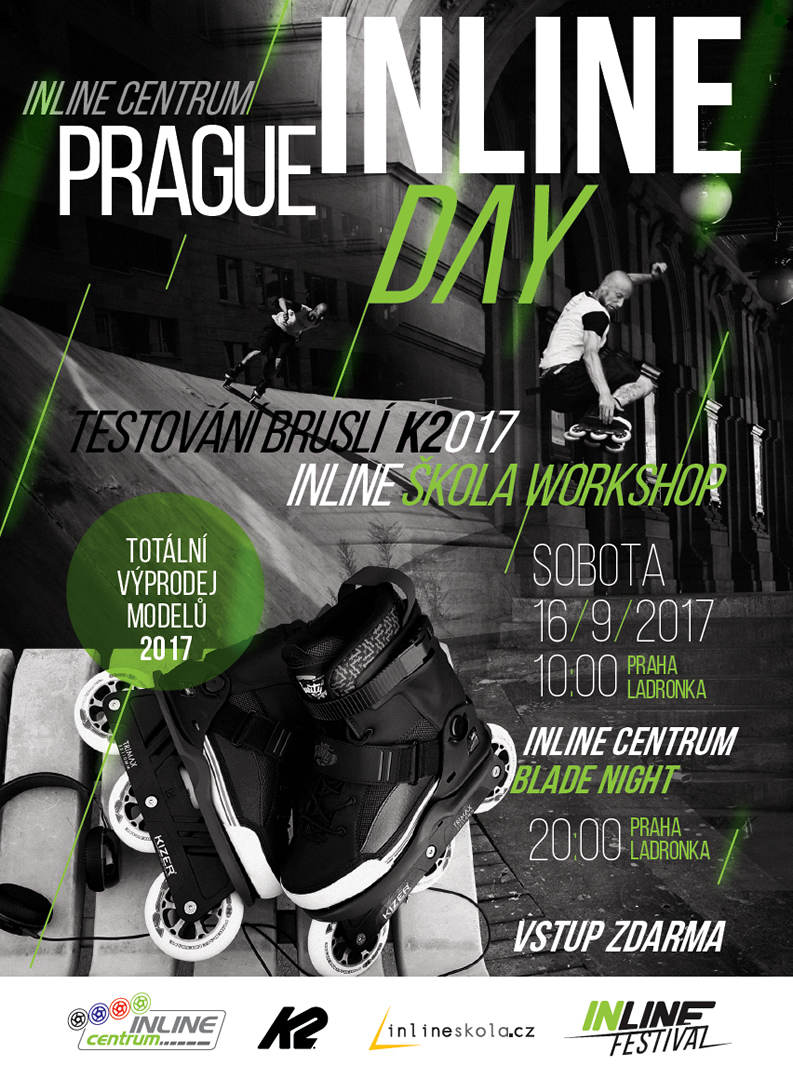 On the photo you see perfect trick from Honza and one of viewers, who was able to make enthralling athmosphere. 
The whole event finished with night ride in company of music from boombox, where you could enjoy a lot of fun.
Inline Day 2017 brought except of possiblity to test quality skates from  K2 also a lot of fun. We are looking forward to next year and again sometimes to see you on other inline event. 
Photographer: Jindřich Jenšík