Tempish HX 1.6 84 Lady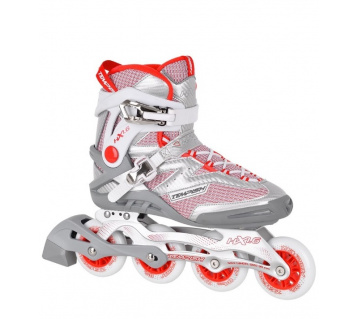 Guarantee (months):
24 months
Compare
Compare
Free delivery for order over 156.74 EUR
Product details, description
Price-checking
Discussion 
HX 1.6 84 lady is a new model of TEMPISH inline skate using modern materials and technologies. As a whole it offers to skaters really high riding comfort, safe skate control and moving certainty with sufficient freedom of individual adjustment of both shoe and skate according to riding style, individual foot shape and local conditions. Skates HX 1.6 84 lady are designed for experienced and advanced skaters to withstand medium and high sport loads.
Shoe
Skate shell is made of new nylon basis composite material. It's very light, very solid and also flexible, thanks to which weight reduction of whole skate was achieved. In upper part shell is equipped with new metal self-locking buckle with adjustment fixing memory. Therefore there is no need to adjust ideal position and strength of skate collars closure while fastening every single time! Instep strap is equipped with micro buckle for comfortable foot fixing in shoe.
Padding
Inner shoe (liner) is made of two-layer inner bandage on foam and latex basis with partial shaped memory. In Achilles tendon and ankle area with very good anatomical shape for higher comfort and clear foot fixation in shoe. Liner has adjusted inner shape for woman´s foot, which is mainly thiner, and less robust then men´s. Outside the liner a new high strength material with excellent air permeability for better ventilation is used. Thanks to structure and dual colour realization it is also dominant esthetical feature of the whole skate. Inner removable liner is quality anatomically shaped and has two layers. It has two main functions:
1.     Ability to adapt to the individual foot shape and to fix foot in the shoe preventing the undesirable movement while skating.
2.     Absorbs vibrations from the chassis and therefore provides more comfortable skating.
Chassis
Model HX 1.6 84 lady is equipped with very solid chassis which is made by aluminium alloy pressing technology. Very deep pressing was designed for high chassis reinforcement. There is a possibility to put wheels up to 90 mm into the chassis!! Chassis is attached to skelet with central screws, which allows individual adjusting of chassis against skelet (foot) position, or adjusting according to each skater skating style. Chassis can also be individually changed for TEMPISH CAT, or RAPID UNI chassis series. Skates are equipped with TEMPISH RADICAL wheels, which are characterised by high adhesion and surface roughness absorption, low wearing out and very low rolling resistance. Wheels rotate on quality, accurate ABEC 9 CHROME hi-precision TOP SPEED bearings with rubber dusters and minimal rolling resistance, provide faster and more comfortable ride.
We are authorized shop of brand Tempish

Do you need advice how to choose wheels?
Do you need advice how to choose inline skates?
In our shops we provide Diagnosis of vault for free
Basic parameters:
| | |
| --- | --- |
| Recommended use | Recreational, fitness skating, advanced, experienced skaters. |
| Category | Fitness |
| Skelet | material NYLON, very light, but strongly reinforced in part above the ankle, tightened with metal buckle with system SELF AUTOLOCK, ventilation in part under the foot |
| Inner material | reinforced NYLON/NYLEX, anatomical insole with two-layer inner structure for better fixation of foot and more sure control of skate, inner bandage with shaped memory. 3D construction of outer fabric for stabile structure and excellent ventilation of foot |
| Chassis in-line | AL alloy, construction strongly reinforced with deep dragging, system of attaching to skelet - combination IDEAL POSITION CONTROL (under the heel) and adjustable position chassis under the toe |
| Type of wheel | RADICAL PU Casting (PUC), Super Hi-Rebound (SHR), high quality wheels |
| Diameter of wheel | 84 mm |
| Hardness of wheel | 85A |
| Bearings | ABEC 9 chrome steel+rubber washer |
| Brake | YES |
| System of tying | Laces, 1 x strap with micro buckle |
Size of wheels: Radical 85A/84mm.
Axis diameter 6mm, length 27 mm.
Sizes: 37 - 42
Product details
| | |
| --- | --- |
| Wheel size | 84 mm |
| |6| | Počet kusů v kartonu |
| Wheel hardness | 85 A |
| Bearings | ABEC 9 Chrom |
| Chassis material | Aluminium frame |
| Chassis attachment | Šroubovaný |
| Fastening system | Lace + micro buckle |