Don´t know how to choose FREESTYLE scooter??
So let us to help you, we don´t only repair them, but also ride on them. 
If you are new at riding in skatepark on freestyle scooter, there can be difficult for you to make good choice of scooter, so we will help you with it. 
Freestyle scooters have their own slangs, so it´s hard to orientate in them. 
But don´t worry, we are here for you and we will help you. 


Board
Probably one of the most important things is board, you can´t ride without it.
Board for scooter is one of the most imprtant components of your scooter. 
It can be made from many different materials, lengths, widths and styles, so it is important to choose the correct board. 
Boards to the skateparks are lighter, shorter and more narrow because of good maneuverability when you make tricks.
The reason is that it is intended for tricks and thanks to good choosen board it is easier. 
For beginners we recommend board to skatepark then more narrow.
Street boards are more for more advanced riders, who already have more experience with riding and mainly with controlling of freestyle scooter. 
Handlebars

Handlebars are also very important for scooter, there are many kinds and sizes from shape T up to shape V.  
Handlebars on your scooter determine what will be your feeling from the ride. 
Their dimensions depends on your choice, it can be look or style you want to ride. 
Majority of quality handlebars are made from steel pipes, but very often there are handlebars from aluminium, which are softer and because of this less resistant for somebody who knows how to ride already, mostly they are on scooters for beginners, and also cheaper scooters.  
Standard diameter of steel handlebars is  31,8 mm and aluminium 34,9 mm both types need compress system, also hoops which are fixed on board. 
Professional handlebars have many shapes and sizes, which more changing the whole design of scooter than their riding characteristics. 
Riders choose design scooter´s look by using various colours and shape of grips.
F.e.: colour of handlebars or pictures, then also colour of grips and shape of grips. 
Wheel fork
Wheel fork the same as on riding bicycle, the same on FREESTYLE scooter.
Wheel fork s important component influences the whole endurance of your FREESTYLE scooter. 
Wheel fork is connecting handlebars through head´s composition, board and wheel between, this will allow to rider turn or make tricks in skatepark.


Head´s composition
Head´s composition is another important element on your scooter, more quality head´s composition then better rotating of handlebars. 
Quality of head´s composition directly influences the whole performance of scooter. 
Head´s composition allows to wheel fork easily and with no problems to turn in head´s pipe and this allows to scooter turn and make tricks.
If there is less quality head´s composition, then wear and tear will be fast and then it will not function correctly. 
Hoop
Hoop fullfils important part of scooter, has a function which firmly connects handlebars with wheel fork. 
Hoops for freestyle scooter are made from resistant materials as aluminium and steel. 
Then you have divided hoops to ones with one screw coming through hoop, two screws, three screws and four screws. 
And we can t forget on the shapes of hoops, f.e. they are round or square.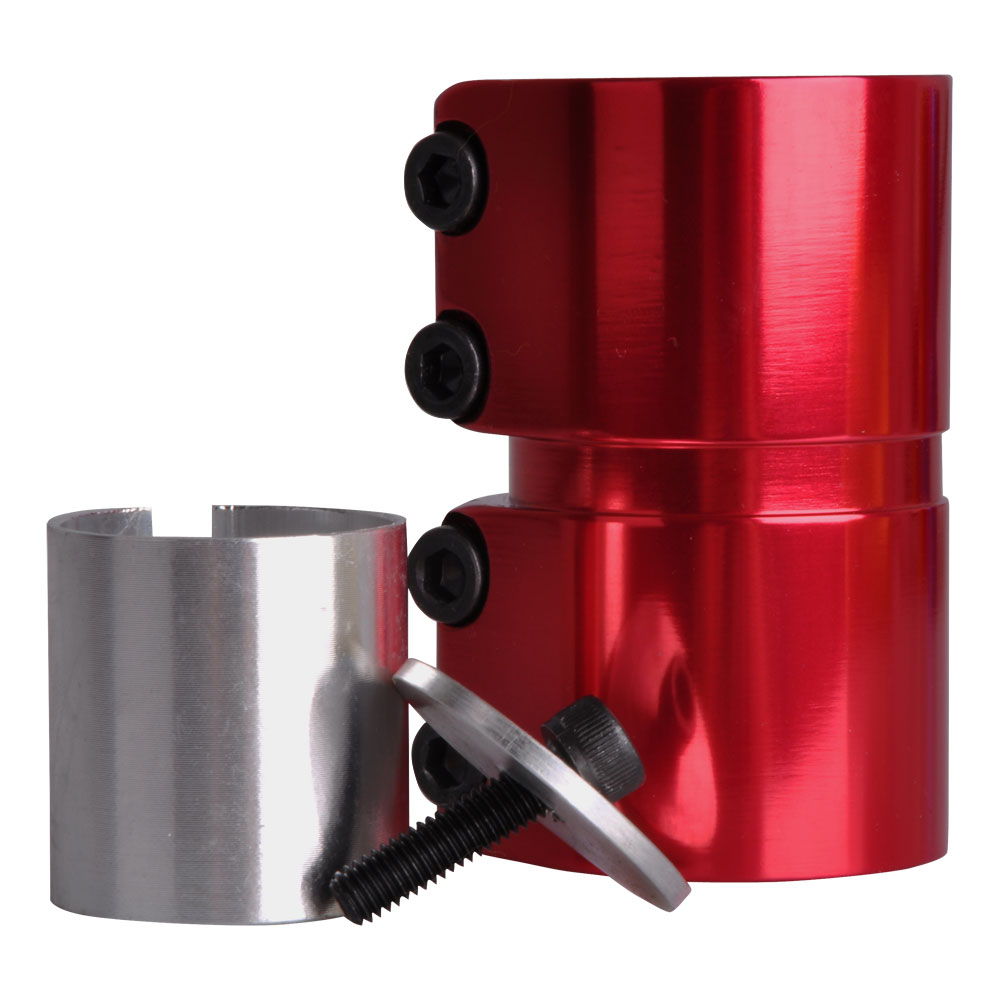 Wheels
Wheels for FREESTYLE scooter there are many kinds and designs, wheels with size 100mm and 110mm.
Then wheels are different in material, we mean the center of wheels, it can be plastic or metal.
Wheels on freestyle scooter with beam or full center. 
Wheels on scooter intended to riding in park and wheels intended for ride on the street. 
There are full wheels recommended to the skateparks because of jumping on ramps, but there is no problem also to have beam center. 
And what about the wheels with beam center, they are more suitable for ride in the street because of their ease against full center, but it is not a problem also to jump with them. 


Brake
Brake is important also for beginners and also for professionals, helps with tricks and braking.
They are made in many shapes and colour combination and also different materials as aluminium and steel. 
Every brake has different attaching in frame of scooter, it can be attached with two screws which is at more quality scooters, or it is attached with one longer screw in construction of frame with spring and this is at cheaper models, and therefore brake is not from steel but from aluminium. 
Pegy
Pegy are accessories, so riding and making tricks is possible without them. But there are tricks, mainly street ones, which you can´t do without pegy. 
Pegy are footboard fixed in the center of the wheel (to the right or left), on which you jump at various tricks.
They are made in various colours, shapes and lengths. 
Pegy are attached on sides of your freestyle scooter. 
They are mounted on the level of center of wheel, it is possible to mount them from the both sides of wheel, but mostly they are mounted only on one side, it can be to the front or back.
When you mount PEGY it is important to have also longer axis if it´s not part of the package, which mostly is the case.