Tempish BUFFY Flash X
Guarantee (months):
24 months
Compare
Compare
Free delivery for order over 155.76 EUR
Product details, description
Price-checking
Discussion (2  posts)
Buffy Flash is a special row of skateboards from brand TEMPISH with LED wheels and transparent board, has also attractive transparent holder.
Board
At skateboard Buffy Flash is used board from material high impact PC which ensures solidness but also flexibility. Shape of board is straight (single kick). Dimenstions of board are 22,5´x 6´(57,15cm x 15,24cm). On the upper side of board is stuck anti-slide grip (transparent griptape).
Chassis
Chassis (trek) is made from material AL Duty (strong type) with size 3,25´(8,25cm) with Silentblocks PUC high rebound ensuring great maneuverability which can be adjusted with regulating matrix.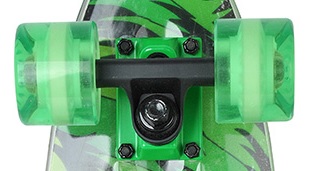 Wheels
Skateboard is equipped with wheels in size 60mm x 45 mm with function LED lights thanks to magnetic spacer. Hardness of wheels is 78A which ensures good adhesion and pleasant ride. In wheels are inputed bearings ABEC 7 chrome steel ensuring smooth ride.
We are authorized shop of brand Tempish

Do you need advice how to choose penny board?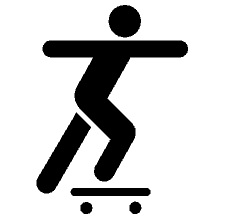 Do you need advice how to choose bearings?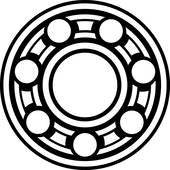 Basic parameters
| | |
| --- | --- |
| Recommended use | recreational sport |
| Material of board | high impact PC (transparent griptape) |
| Shape of board | straight, single kick |
| Dimensions of board | 22,5"x6"(57,15*15,24cm) |
| Size of board | 22,5" (57,15cm) |
| Grip | structure on basic board |
| Chassis in-line | 3,25´AL Duty (strong type) |
| Silentblock(cushion) | PUC high rebound |
| Wheels | 60*45 mm + LED lights |
| Diameter of wheel | 60 mm |
| Hardness of wheel | 78A |
| Bearings | ABEC 7 chrome steel |
| Maximal load capacity | 100 kg , class A |
Ask a question
07.12.2017, Lenka Hladišová:
Dobrý den, je tento skateboard vhodný i pro velmi lehkého jezdce (cca 23kg) a úplného začátečníka (umožňuje snadné zatáčení i při nižší váhové kategorii)? Případně doporučil byste pro takového jezdce nějaký vhodnější? Předem děkuji za odpověď.
08.12.2017, icLukas:
Dobrý den,

ano je :)

S pozdravem

Strnad Lukáš
IC