Powerslide Swell Aquamarine 100 Trinity
Guarantee (months):
24 months
Compare
Compare
Free delivery for order over 160.00 EUR
Product details, description
Price-checking
Discussion 

  Jak vybrat inline brusle?                

  Jak vybrat kolečka?            
   Diagnostika klenby zdarma.

  Triskates-výhody a nevýhody.       

   Jak vybrat ložiska?           
 VideoRecenze Triskates
Swell Aquamarine 100
About unique system of attachment of chassis to the shoe you will read in article technology of attachment of frame Trinity.
Roller skates Swell are very comfortable and made from high quality materials, this row was created based on technology of elite racing skates.  Inline skates Powerslide Swell are designed for all lovers of fitness riding. Line of skate was designed to create high quality and powerful roller skates specially for intensive fitness training. 
Skates Swell are easily maneuverable, you can trust them. Anatomically shaped skelet is from special composite material with 15% fiberglass, which is perfectly solid and also light and good ventilated. Inner shoe has anatomical shaped padding with nice surface adjustment from quality micro fiber and nylon. Trinity is new asymetric system of attachment of frame, which allows maximal approach of wheels to the shoe, by which is lowered center of gravity and highered stability. Shoe is attached to the frame with three-point attachment, which also more mutes vibrations from ride, better transfer strength of reflection and offers more control during skating. Thanks to the shortest frame, for size of wheels 100mm, are Swell 100 fast and also perfectly maneuverable!
Parameters: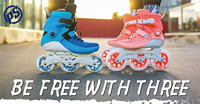 Skelet: Glass-fiber reinforced plastic, Trinity
Chassis: PS Elite casted Magnesium, Trinity, 3x100mm, 9,1"
Wheels: Undercover Swell 100/86A, Made in USA
Bearings: WCD ABEC 9, 608
Brake
: HABS
Product details
| | |
| --- | --- |
| Wheel size | 100 mm |
| Wheel hardness | 86 A |
| Bearings | ABEC 9 |
| Chassis material | Magnesium |
| Chassis attachment | Trinity X 3-point (šroubovaný) |
| Fastening system | Lace + micro buckle |
K Powerslide Swell Aquamarine 100 Trinity