Frame
Length
Length of frame affects nimbleness of skates, slide and stability during moments  of higher speed. Length of frame is directly proportional to size of wheels. The bigger the wheels, the longer the frame. Length of frame is expressed usually in inches or centimeters.
Shorter frame - better controllability, worse stability during moments of higher  speed 


Longer frame - worse controlability, better track lead, better stability during moments of higher speed
Recommendations are not exact, even with shorter frame it is possible to skate fast. Important aspects are also firmness, focus point, toughness of boot etc.
Toughness of frame
Toughness affects mainly stability of skate (especially during faster ride), tranfer energy to rebound and resistance. It is determined by used material, way of attachment and technical manufacturing.materiálem, způsobem
Construction - the aim is to achieve optimal ratio of (high) tougness to (low) weight. Frame has to also be felxible. High-quiality frames are made of CNC milling machines which provides precise manufaturing. They are however quite expensive. Higher toughness is maintain using bridges (braces in frame construction).
Toughness is higher with mono-constructional (=made of one piece in shape of U - always attached with screws), compared to traditional frames which are made of two pieces integrated to bottom part of the boot (usually rivetted). However, it always depends on type. 
Materials 
a) Plastic frame - plastic frame is used usually with fitness skates for beginners or with aggressive (harder version). Advantages are low price, weight, good absorbing of bumps. Disadvantage is low level of toughness.
Plastic frames differs in quality a lot. Expensive plastic frame could be better than cheaper metal frame.
b) Metal frame - usually it is made of aluminium alloy. Alloy affects price and quality. Cheaper frames are made of softer and cheaper metals, top frames are made of expensive and more solid materials such as Aircraft aluminium (aluminium alloy used in aviation industry), alloy Al 7005 (93,35%Al, 0,13%Cr, 1,4%Mg, 0,45%Mn, 0,03%Ti, 4,5%Zn, 0,14%Zr) etc. Metal frame does not guarantee quality, you have to always consider all features.
Magnesium  - low weight, but fragile and lower bearing capacity
c) Carbon frame - carbon frames are used only with top level speedskates and freeskates. Advantage is mainly low weight, therefore these frames are used for sprints. Disadvantages are higher price, lower toughness (compared to the best metal frames offered).
Ways of attachement and possibility of frame adjusting
Types:
rivetted frame - frame taht consist of two parts. Attached with rivets or screw right to the bottom part of the shell. Advantage is low weight. Disadvantages are lower toughness and no possibility of adjusting frame position.
screwed frame-  usually used with fitness, race, aggressive and freestyle skates, when there is emphasis on toughness. We can also find them with cehaper skates, but usually with low-quiality frame. Advantage is also possibility of adjusting the frame position. Screwed frames are mono-constructed (made of one piece in shape of U) and they are attached through the holes to the boot where the thread is  (see picture 2).
Spacing of screwed frame 
150 mm - used with kids racing skates
165 mm - used with skates with smaller wheels (max. 84mm), with 3-wheel-skates, freeskates and smaller sizes
195 mm - used with bigger wheels (over 90mm) + bigger sizes
UFS - standardized attachement of aggressive skates
Some frames have two slots for better attachement of spacings
There are sometimes other spacing. Usually it is matter of certain fitness type of skates. However, it is not a standard spacing.
Frame adjusting
Adjusting position of the frame is done for adjusting the frame to boot. Usualy is possibility od front-back and side adjustment. At the same time, angle of the frame can be adjusted using special gores. Setting depends on certain needs of skater (according to its foot and individual preferences). There has to be longitudinal (along) and tranverse (across) slot for screw (otherwise it is not possible to adjust it). Frame slots have to be croswise to each other.
Front-back setting - used mainly for racing skates. Advantage is possibility of exact setting of focus point (= exact rebound). If the frame is too forward, the rebound is done on front wheels through the tip, which is the most common mistake. If the frame is too backwards, it can lead to problems with instep tendon and shin muscles.
Side setting - for exact focus point and precise feet axis. This is very individual and it can really help to prevent from pain. Correct setting can also affect stability during slide.
The most common setting of frame is that the middle of back wheel is set in direciton of achilles tendon. Front position (=front wheel) is usually under the second finger.
Centering with gores
gores can be used with certain types of racing frames. Gores are placed as a pad between the frame and the boot. Gores are called  Pitch control and Stride control. Front-back and side lean can be adjusted with gore.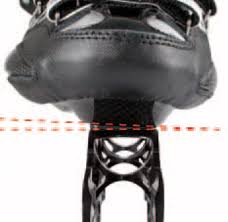 Pitch control - enables change of front-back angle. The heel is either adjusted higher than the tip or other way round. First option provides better acceleration. This setting can be seen in sprint disciplines and short tracks. Suitable for everybody who preferes good acceleration. Second option (the tip is higher) is used for long tracks during which is skater often in vertical position and weight is put on the middle of the frame and back wheels.
Stride control -enables change of side angle. Frame is then more to the left or to the right. Advantage are longer slide and powerful rebound.